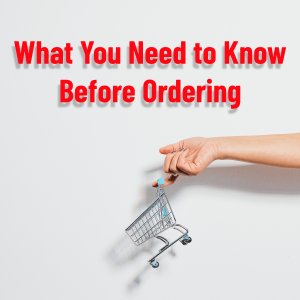 So you've found something on our site that you love and you're ready to place an order? Great! We'd love to help you.
What We Do
Our main business is branded apparel and promotional products. While most of our products can be sold blank, we specialize in providing custom-decorated products via our in-house embroidery department and our partnerships with other trusted decorators. The vast majority of our orders involve custom work with plenty of moving parts.
As such, at this time we are not set up for direct online ordering. We tried it in the past and it just didn't work great due to the specific challenges of our industry. We're looking to set that up again in the future, but for now here's how we can help you.
How to Order
Think of our website as an online catalogue. Use it to get ideas about the products you're interested in, and when you're ready you can reach out to us to help you complete your order. We can be contacted by phone or email. Or, if you're located near Winnipeg, you can pop into our office for a guided tour of what we have to offer. We pride ourselves on having the most extensive product showroom in town! Just be sure to check our our current Covid-19 guidelines first.
However you choose to reach out, you'll be put in touch with one of our no-pressure account reps. They'll help make sure the products you're considering will meet your needs & budget, and they'll walk you through all the specifics of getting your products decorated exactly as you'd like them. From then on you can feel free to reach out to them directly for follow-up orders as they'll already know what you'd like.
A Note on Pricing & Availability
Due to the nature of our business we do not directly stock most of our product inventory. Instead, we order direct from our suppliers as needed to fulfill our orders. This means that now and then we'll have a product listed as "in stock" on our website but it may actually be unavailable or on back-order.
"In Stock" for products on the main Xpromo.ca website should be understood as "In stock last time we checked." Stock for items on the xpromo-promotional.com website is generally accurate but this depends on whether the suppliers themselves are keeping their inventory up to date (that website pulls from a central inventory database).
Most items on our main website are priced as including embroidery (minus any set-up fees for first time designs). We are currently in the process of updating each individual product to highlight which this applies to. A note should display under its price, but for the moment this may not be fully accurate for those we haven't gotten to yet.
Delivery Timelines
During better times we aim to have about a two-week turnaround for routine decorated orders. This is the time it takes to receive & decorate your products and then get them into your hands. Due to disruptions in our supply-chain from the Covid-19 pandemic, we are presently at an approximate three-week turnaround for most orders. Other factors may extend this timeline:
Very large orders or orders involving complicated or multiple decoration methods
Failure to submit any necessary information or artwork requested may delay our ability to get your products decorated or shipped
Remote shipping locations may lead to longer delivery times
Busy seasons such as the months approaching Christmas may delay production of decorated orders
For an accurate estimate please speak to your account rep.
Ready to Order?
Give us a shout and we'll be thrilled to help you out. You're going to love dealing with us.
Last updated 2021-03-25