It looks like that snow on the ground is here to stay. For some of us that means it's time to curl up and hibernate with a cozy blanket until the world thaws out. Whether you're thinking of yourself, or you've got gifts to give for the upcoming Christmas season, this awesome sale on Whiteridge blankets is sure to pique your interest.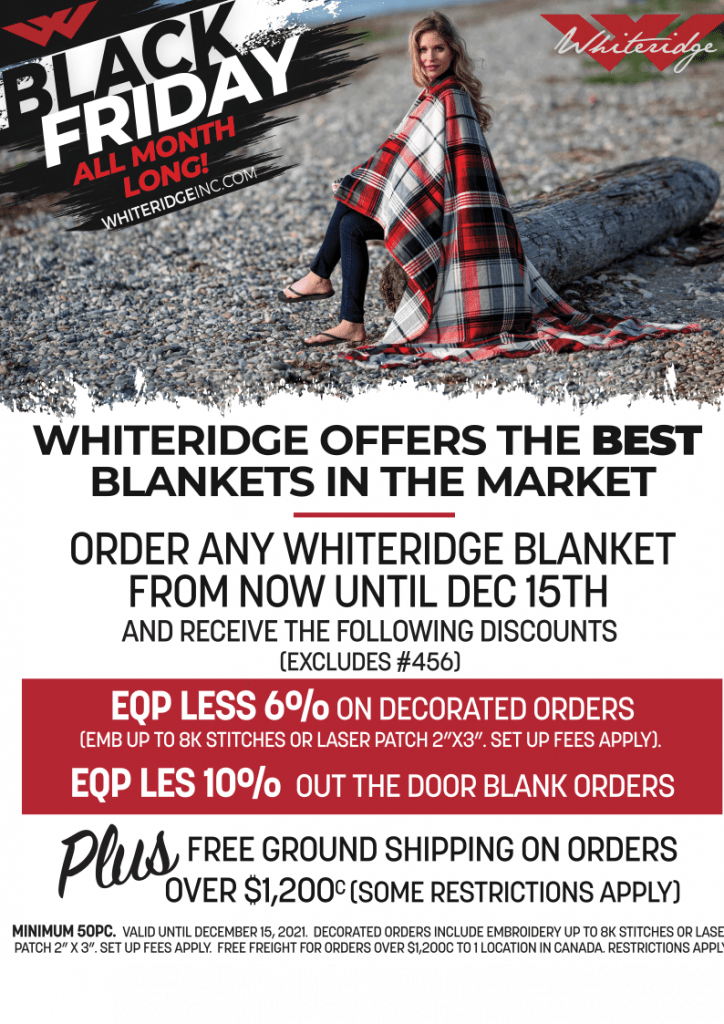 Sale Details:
End Quantity Pricing less 6% on Decorated Orders or EQP less 10% on blank orders
Free ground shipping on orders over $1200 (some restrictions apply)
Minimum 50 pcs to receive discounted pricing
Pricing in effect until December 15, 2021
Important Note: These sale prices are not shown on the individual product pages – please mention this special when placing your order!
Whiteridge Blankets Currently On Sale
| | | | |
| --- | --- | --- | --- |
| | Lumberjack Sherpa Throw Blanket (Small) | Lumberjack Sherpa Throw Blanket (Large) | |
| | | | |
| | | | |
| | | | Decorated: $108.33 $101.83 |
| | | | |
| | | Herringbone Sherpa Throw Blanket (Small) | Herringbone Sherpa Throw Blanket (Large) |
| | | | |
| | | | |
| | | | |
| | | | |
| | MiCasa TV Blanket & Pillow | | |
| | | | |
| | | | |
| | | | |
| | | | |
| Rylie Loft Jacquard Throw | | | Lux Faux Fur Throw Blanket |
| | | | |
| | | | |
| | | | |
| | | | |
| OVERSIZED Classic Sherpa Throw | Envy Sherpa Throw Blanket (Small) | Envy Sherpa Throw Blanket (Large) | Coastline Woven Throw and Gift Box |
| | | | |
| | | | |
| | | | |
| | | | |