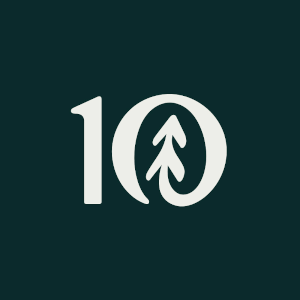 Are you looking for sustainable clothing or ethical promotional products to promote your brand? We've got a new option you're going to love, and you may already have heard of them.
Who Are tentree?
tentree* are a Canadian apparel company that create sustainable clothing using ethical business practices. Their primary claim to fame is right there in the title: they've pledged to plant 10 trees for every single product they sell. Beyond that, they make every reasonable effort to reduce the carbon footprint of the products they manufacture.
*(Yeah, "tentree" is spelled with a lowercase "t".)
What Makes tentree's Clothing Sustainable?
All of tentree's clothing are made using recycled or otherwise sustainable materials. They use everything from hemp and organic cotton to recycled polyester. That last one is really cool – it's made from single-use bottles that would otherwise sit unused in landfills. According to REPREVE® – one of the suppliers that tentree source their recycled polyester through – tentree and similar brands have recycled over 25 billion bottles this way. That's not bad for something that was otherwise destined for the garbage.
Are tentree's Clothes Made in Canada?
At present tentree's clothing is designed in Canada, but not made here. As much as some of us might prefer that they also be made locally, that doesn't have to mean that they're made unethically. More on this later, but their manufacturing is sourced through oversees companies certified by Fair Trade and similar organizations.
Note: If you're specifically looking for something manufactured in Canada, check out King Athletics. They're not listed on our site at the moment but we carry the whole line and that's who we use for our Why Buy Canadian shirts.
How Are tentree an Ethical Company?
We consider tentree a great option if you're specifically looking for ethical promotional products for a number of reasons. First, because they strive to ensure that the workers in the factories they partner enjoy safe working conditions and earn a living wage (rather than just a minimum wage). Second, because they place a great deal of value on transparency in their business practices. In fact, their page on ethical manufacturing has a list of every factory they partner with and breaks down what sorts of third-party audits or labour certifications they have received.
Whose To Say They Aren't Just Making This Stuff Up?
There's nothing wrong with being skeptical of an organization's claims, especially when they're trying to sell you something. I asked myself this very question when I started looking into the company. I came away satisfied when I learned that tentree are a certified B Corporation.
As a B Corporation, tentree have proven their adherence to ethical business practices. According to the B Corporation website:
Certified B Corporations are a new kind of business that balances purpose and profit. They are legally required to consider the impact of their decisions on their workers, customers, suppliers, community, and the environment. This is a community of leaders, driving a global movement of people using business as a force for good.
This certification requires submitting to an extensive audit process meant to measure a company's entire social and environmental performance. Only approximately 1 out of 3 applicants pass this certification process, and tentree are in good standing with some well-known companies such as Ben & Jerry's and the Business Development Bank of Canada.
B Corporation applicants are scored across several different impact areas that are added up to a total score. This score is certified by the non-profit B Lab. B Lab estimate an an ordinary company's median score to be 50.9 on this scale, while a score of 80 or higher is required for certification. tentree has scored a formidable 124.6 as of their most recent audit, earning themselves several honors through B Lab's "Best for the Word" list since 2019.
No company or organization is perfect, but it's nice to see that tentree is taking very real efforts toward ensuring that they are balancing the need to make a profit with their desire to make the world a better place.
What If I Don't Care about Sustainable Clothing or Ethical Promotional Products?
Do you care about comfort? There's no sense spending good money on branded apparel or promotional merchandise if no one is actually going to wear them. Thankfully whether or not you care about tentree's sustainable business model, you're probably in for a comfortable wear with their clothing.
Probably?
If there's one thing we know from being in the apparel business for over 30 years it's that comfort is in the eye of the beholder. One person's comfortable hoody can be a constricted prison to another. Check out some of the reviews for yourself or, better yet, pop by our showroom and check them out in person.
Most of the tentree products we carry are priced with basic decoration already included. This means other than any taxes and shipping, what you see is what you'll pay to get your logo or message printed onto some ethically-sourced sustainable clothing.