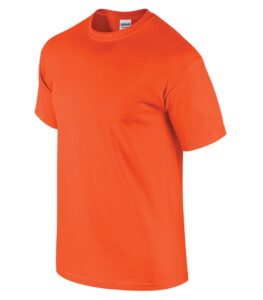 Lately we've been getting a lot of calls asking whether we have bulk orange t-shirts available for custom-printing jobs. In fact, there seems to be a shortage of bulk orange t-shirts in Canada right now. That's because Orange Shirt Day is fast approaching, and both Canada's indigenous communities and their allies are getting ready for the event.
What is Orange Shirt Day?
Orange Shirt Day is an event held annually every September 30th in commemoration and remembrance of Canada's horrific residential school history. This blight on our country's past not only directly harmed those who endured it, but has repercussions that extend into the present. Given that it amounted to nothing less than the targeted destruction of the cultures of Canada's indigenous First Nations, Inuit, and Metis people, its legacy remains both as a scar on our country, and also on so many of its people. Some actions can never fully be undone, and this is one of them.
You very likely will have heard in the news recently of the uncovered remains of 215 children on the property of a former residential school near Kamloops. Grim discoveries like this are awful to hear about, but it is extremely important that we acknowledge them. That makes this upcoming Orange Shirt Day more important than ever.
If you want to learn more about Canada's residential schools (such as the fact that the last of them only closed in 1997!), here is a great article that breaks down some of the biggest questions surrounding this stain on our past.
What Canada's First Nations, Inuit, and Metis People Mean to Us
We respect and acknowledge our First Nations, Inuit, and Metis neighbors first and foremost as Canadians with their own unique histories, cultures, and backgrounds. We believe that their cultures are deserving of respect. More so, we believe that every effort should be made to uncover and preserve those elements of their past that were forcefully stamped out by the actions of some of our ancestors.
The staff here at Xpromo.ca come from a diverse range of backgrounds, and we believe that this brings strength to our corporate culture. With different histories and cultures come different ideas and ways to tackle problems. We believe that this extends to our country as a whole, and that our First Nations, Inuit, and Metis brothers and sisters deserve our support in uncovering more about their past.
We are proud to say that a significant number of our clients are indigenous organizations across both Manitoba and all of Canada. Our company's owner has even made trips up to Nunavut and has seen first-hand how tough life can be for folks in remote communities like that. As such, we always strive to go above and beyond for the people of these communities, and we acknowledge that we depend on their support to put food on our own tables.
We Currently Have Custom-Printed Bulk Orange T-Shirts Available in Canada
We've heard the calls of our clients and have scoured our supply chain for any orange t-shirts we could get our hands on. We have several large shipments incoming to our Winnipeg office, in three different styles (including youth sizes).
Please note that despite their being a national shortage, we are not marking these shirts up in price. They are selling for the same low price we'd always charge, as the last thing we want to do is take advantage of those of you trying to spread this important message.
We are also not selling our own Orange Shirt Day designs, as we believe that should be the place of organizations more directly impacted by Canada's residential school history. Unfortunately there have been reports of people stealing designs from indigenous people and attempting to illicitly profit off of Orange Shirt Day. We want to make it clear that we do not support such activities.
What we are doing is selling custom-printed bulk orange t-shirts with your own Orange Shirt Day (or related) designs. That's what we brought all of these orange t-shirts in for, and that's the type of client we wish to support.
We currently have custom-printable orange t-shirts available in the following styles, but please contact us for sizing availability before placing your order.